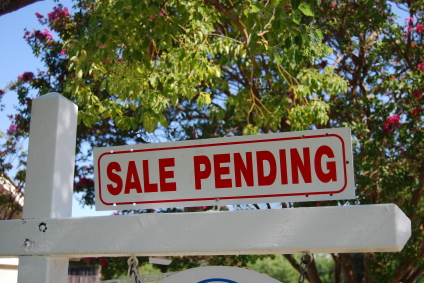 Is a home that is labeled as "Sale Pending" worthy of pursuit or totally unobtainable? When a buyer makes an offer to purchase a home it is typically "subject to" or "contingent on" inspections, appraisals and/or loan approvals. The seller understands the buyer has intentions of closing on the home but first must be sure the property is in good condition and financing is available. Otherwise, the buyer can cancel the contract. Once the buyer is satisfied with inspections and has been approved for a loan, all contingencies are removed and the sale is pending. The buyer in essence is locked in to purchase the home. Important to note is that should a buyer need to exit the contract it is still possible to walk away at risk of losing the earnest money deposit. So, when a property is labeled "Sale Pending" there might still be a chance to step in should the first deal fall apart.
Basically, a home that is under contract means the buyer has made a formal offer that has been accepted by the seller. Back up offers would be welcomed and the listing agent will probably continue showing the home because the deal can very easily crumble. Who knows? There may be a surprise lien on the property, appraisals could come back low thus affecting the home loan, or problems could be discovered during the inspection leading to renegotiations.
Although there is a difference between sale pending and under contract it might not be significant. There is still a chance that if you fall in love with a home that has one of these labels, you might be able to snap it up and call it your own.
For more information on home sales in Tampa Bay and Florida's Gulf Beaches contact Kohan & Associates at 727-565-1658 or www.Suncoasthome.com.